Here's the announcement of the opening of the exhibition:
_______________

 Milan Ivanič
From the Elbe to the Lune
9 November – 21 December 2019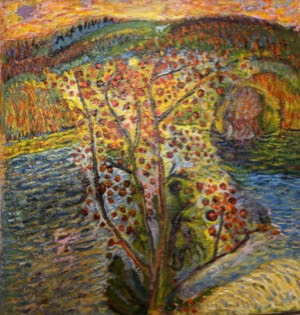 Image: Milan Ivanič Autumn. Oil on canvas.
 You and your friends are invited
to celebrate the opening of our new exhibition.
Saturday 9 November 2019
12 noon – 3 pm
OPENING HOURS
After 9 Nov, the gallery will be open Thursdays, Fridays and Saturdays,
11 – 4pm, until 21 Dec
Milan Ivanič has lived in Lancaster since 1986 when his wife Roz started working at Lancaster University. Originally from the former Czechoslovakia, Milan had a formal art school training in Prague, at the Hollar School of Art and the prestigious Prague Academy of Fine Arts.
Milan has immersed himself in the landscape of Lancashire, Yorkshire and Cumbria and for thirty years he has been out almost every day, drawing and painting. The River Ribble flowing through the limestone dales in Yorkshire and the River Lune in Lancashire, regularly feature in Milan's paintings.